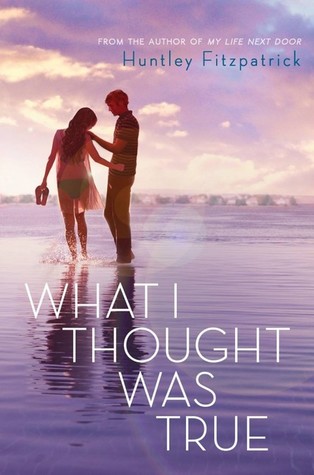 I was absolutely, completely, head-over-heels in love with Huntley Fitzpatrick's debut novel,
My Life Next Door
. So I was extremely excited to get my hands on her second book,
What I Thought Was True
, which is set in the same idyllic small town of Stony Bay, but focuses on different characters.
Fitzpatrick's sophomore novel tells the story of Gwen Castle. Her divorced parents both work hard for what they have, her dad managing a restaurant and her mom working as a maid. Both have jobs that cater to the island's wealthy upper class and summer crowd. Gwen's family has also raised her cousin Nick, who is the same age as Gwen, and a younger brother who has special needs. Nick has big dreams and a serious work ethic, which will someday take him off-island.... but these seem to be in direct conflict with his longtime and committed relationship with his girlfriend Viv, who he hopes to marry, who plans to stay on the island and take over her family's business.
Gwen, meanwhile, has somewhat of a checkered past. The guys in the book seem to view her as somewhat of a "bad girl" because she has been with three different guys. But through hearing her story unfold, the reader feels sympathy for her, for how she felt made mistakes in past relationships and aches for the right relationship to develop.
And then there's Cass. He's the handsome golden boy, son of a rich summer family, and part of Gwen's past. But as their story unfolds, we learn that what's between them is far more than just a mistake, but has many layers of emotional depth.
The premise of this story could have felt cliché, but in Fitzpatrick's hands, was lovely. Girls like Gwen are far too often judged and cast aside, but here she felt vulnerable and sweet, and I wholeheartedly rooted for her. In that respect, the book was definitely a success. Had I read this book as a standalone, I would have completely endorsed it. However, comparing it to
My Life Next Door
, it felt like a letdown. It just didn't have the same magic. A good read, one I will even recommend, but not one I will rave about.