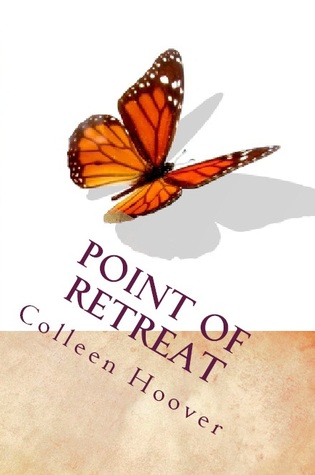 Oh Colleen Hoover, how I love you.
Slammed
was such a diamond in the rough, unlike anything I had ever read before. And its sequel,
Point of Retreat
, did not disappoint.
It picks up pretty much where the epilogue of
Slammed
left off, at Will and Layken's second Christmas together. Will is in graduate school and Lake is in college. They are both raising their brothers. They are still living separately, across the street from each other, but are in a deeply committed relationship. And much like in
Slammed
, shortly after the book begins, life begins throwing curveballs at them mercilessly.
Now, it's not as bad as in
Slammed
. Pretty much nothing could be. (SPOILER ALERT) This book features the reappearance of Will's ex-girlfriend, which causes Lake to realize how very little she knows about Will's life before she appeared in it. She says that she needs him to prove that he loves her for HER, not just for the circumstances that they are in--which I get. And he proves it beautifully, as only Will Cooper can.
And then further tragedy strikes. I'm not going to do full-on spoilery here, but only say that I thought that the drama in the second half of the book was not fully necessary. And if it was necessary, then I guess I thought it wasn't developed deeply enough. I mean, the ex-girlfriend thing got a solid 2/3 of the novel, and that only got 1/3 or less? Hmm. Could have been a novel of its own. Just saying.
But aside from my frustration there, I loved the rest. Kel and Caulder gain a female sidekick, Kirsten, in this book. While I was initially unsure about her, I came to love her by the end of the book. She added SO MUCH. Especially the use of the word "butterfly" as the substitute for a curse word, which I think I may need to work into my everyday vocabulary. I also loved Kirsten's mom, Julia, who added so much to the story with her wisdom. Will and Lake have precious few actual adults in their lives, and Julia really steps in to care for them without being intrusive. I loved how she was just completely quirky and yet incredibly caring.
A slight complaint would be that while Eddie and Gavin are present throughout the story and do have plenty going on in their lives, I felt like they were somehow lacking in this book. Eddie just seemed like a colorless version of herself. I'm hoping for more of them in
This Girl
, the third installment in this series.
And, of course, there's the poetry. In this book, Will extends his love of slam poetry to the younger generation, including Caulder and Kirsten. So, so awesome. I cannot say enough good things about the slam poetry included in this book. It simply makes the book. Love, love, love.
As for age on this one..... you may all be shocked, but I did actually have to venture in to the "grown up" section of my local library to check it out. While
Slammed
might sneak under the radar as YA because Layken is in high school,
Point of Retreat
has no such confusion. It's definitely a real, true, adult novel, just regular old fiction. If you want to get really technical, I would actually classify it as "new adult," since the characters are in college and struggling with the issues of becoming adults. But until that genre becomes more widely known, you'll find it in your fiction section section.