The
30 Day Book Challenge
is an event happening over at
In Between
. There are book-related topics for every day of September. I'm playing along.... come join me!
The topic for Day 6 is "your favorite authors." Ahhh, now here's a topic I can get excited about!
My gut instinct is to say Terry Brooks and Raymond Feist.
They were the authors that got me hooked on fantasy novels back when I was younger, and their latest releases composed my Christmas wish list for about 10 years running. I've read and re-read both of their books and fallen in love with both of their worlds (Brooks- Shannara; Feist- Midkemia), and they provided a great springboard for me to launch into explore other similar books. But while I will always have warm fuzzy feelings toward them from the books of my youth, I haven't read anything by them in several years (which maybe I need to remedy with some re-reads).
Lately, it's more: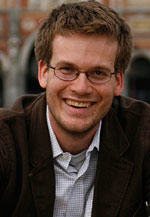 John Green
Looking for Alaska
Will Grayson, Will Grayson
An Abundance of Katherines
Paper Towns
The Fault in Our Stars
I have read all of his books and have simply fallen in love with each of them. I seriously cannot wait for him to publish another so I can devour it too.
Shauna Niequist
Cold Tangerines
(She has also written a book called Bittersweet, which I own but haven't read yet. And she's coming out with another one soon.)
While generally I would have to have read everything I can get my hands on by a particular author before labeling them as one of my "favorites," I'm willing to give Ms. Niequist that title after making it only about 3/4 of the way through one of her books. I'm stretching out the reading of Cold Tangerines for as long as possible, because each and every essay gives me so much to think about. When I'm reading her work, I feel like she's talking right to me, that she totally "gets" me. Rarely (if ever) have I felt such a personal connection with an author. I have had many similar experiences to the ones she describes in her book, and my reactions have been eerily similar to hers. When she describes her feelings, I always think, "YES! That's it! That's EXACTLY how I feel!"
While I have not read all of their works (and therefore don't feel qualified to dole out the title of "favorite"), other honorable mentions to go:
* Scott Westerfeld for his Pretties trilogy
* Suzanne Collins for the Hunger Games trilogy
* Madeleine L'Engle for all of her children's books; I keep meaning to read some of her adult stuff
* J.K. Rowling for her Harry Potter series.... can't wait to see what I think of her newest adult book!
* Jodi Picoult for Keeping Faith, My Sister's Keeper, and Plain Truth. The only reasons she's not an absolute favorite are because I thought 19 Minutes was just too disturbing, and I didn't like Mercy at all.